News
Category Winner BWPA 2023
March 20 2023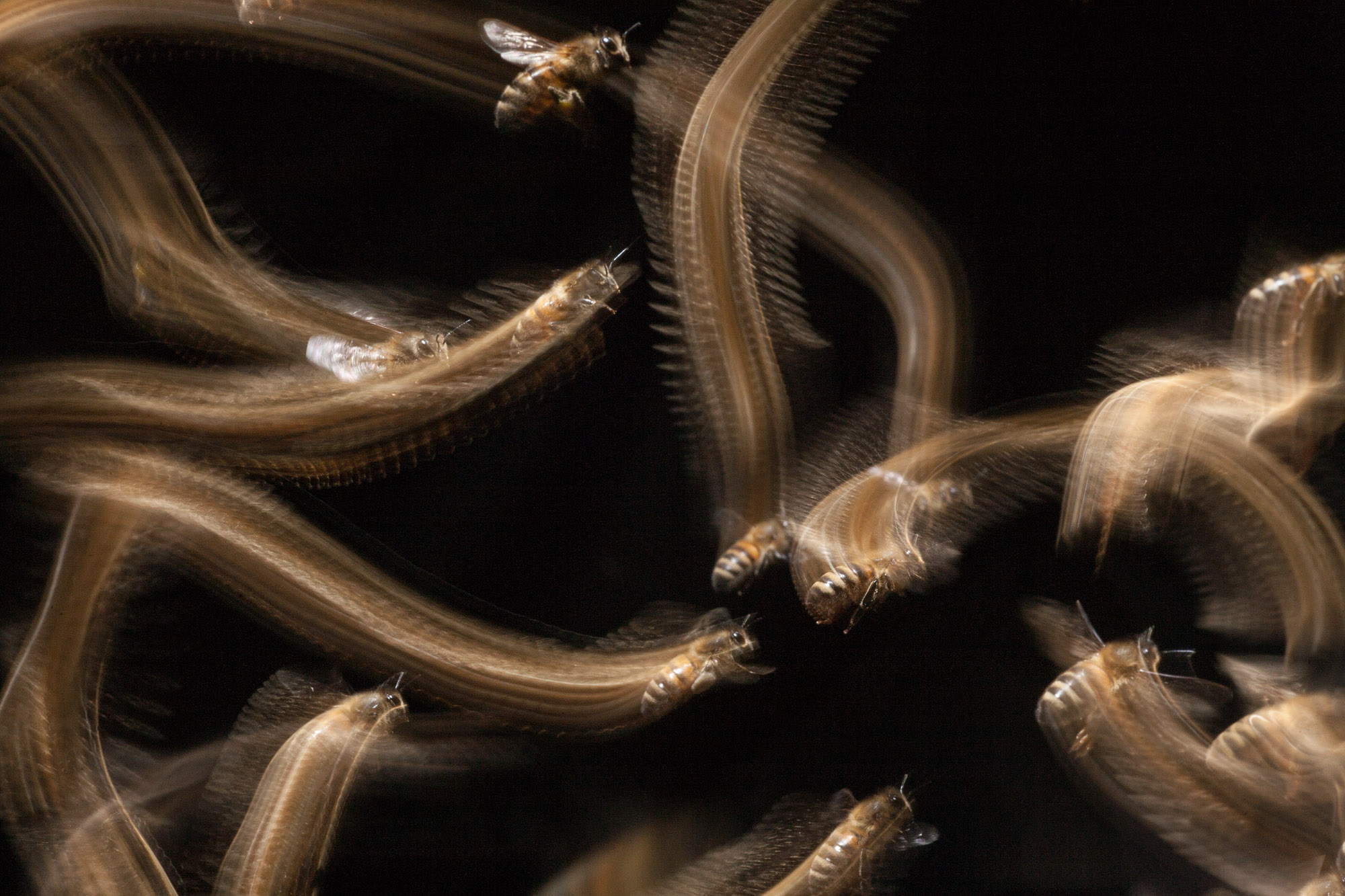 Very proud to say that my image 'Honey bee flight trails' has won the 'Hidden Britain' category in the 2023 British Wildlife Photography Awards.
The Return of the Shad
March 20 2023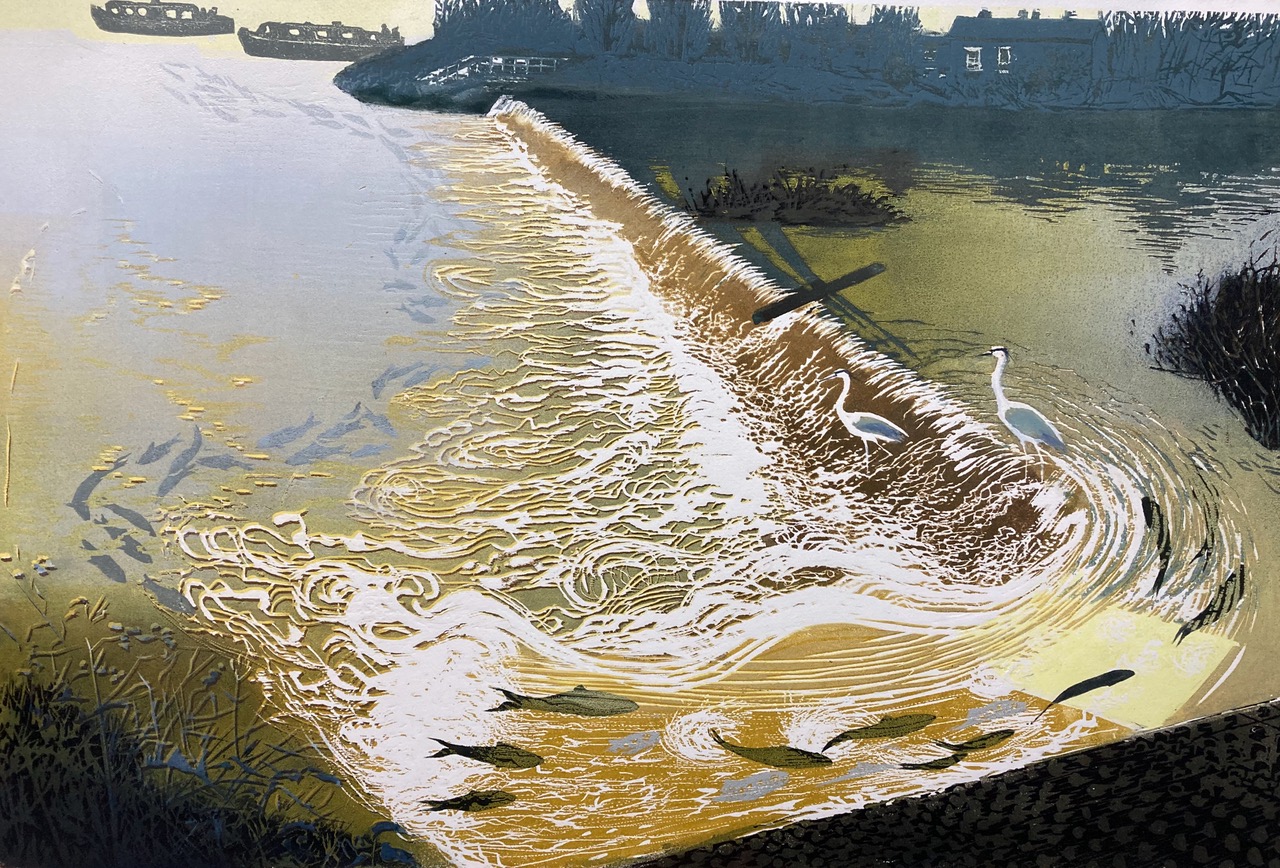 A short film about Somerset artist/printmaker Julia Manning and how she draws inspiration from stories about the natural world. In this case the plight of the Shad ... one of our least known fish. Watch here.
'Tiny Worlds' streamed by Apple TV
March 20 2023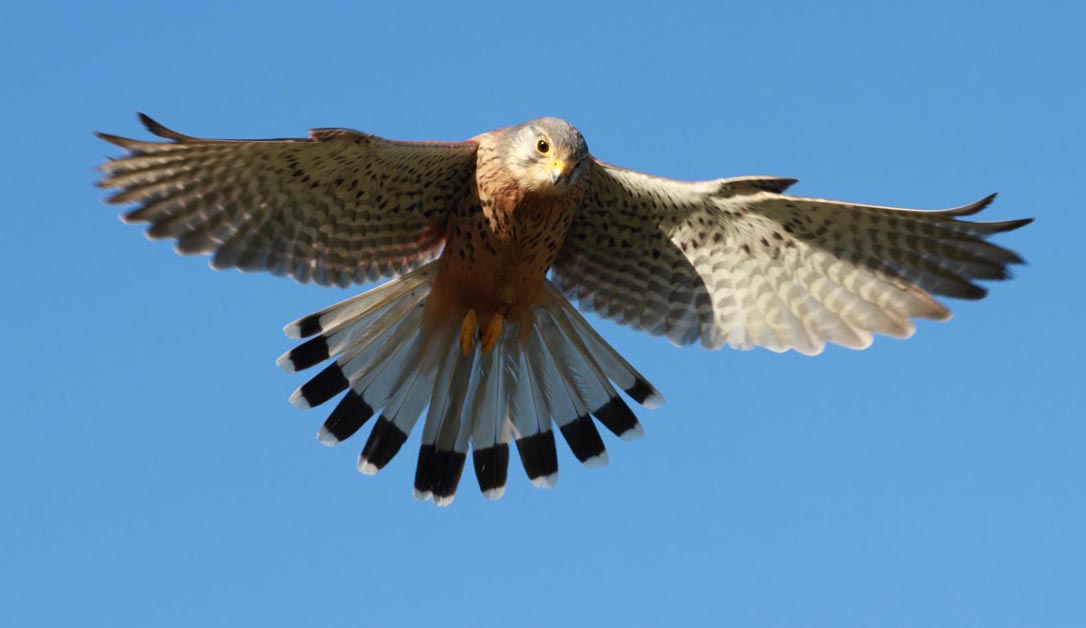 In 2019/20 I filmed various sequences for Plimsoll Productions' series for Apple TV about the smaller creatures that are key players in the natural world.
One small garden in the city
December 18 2020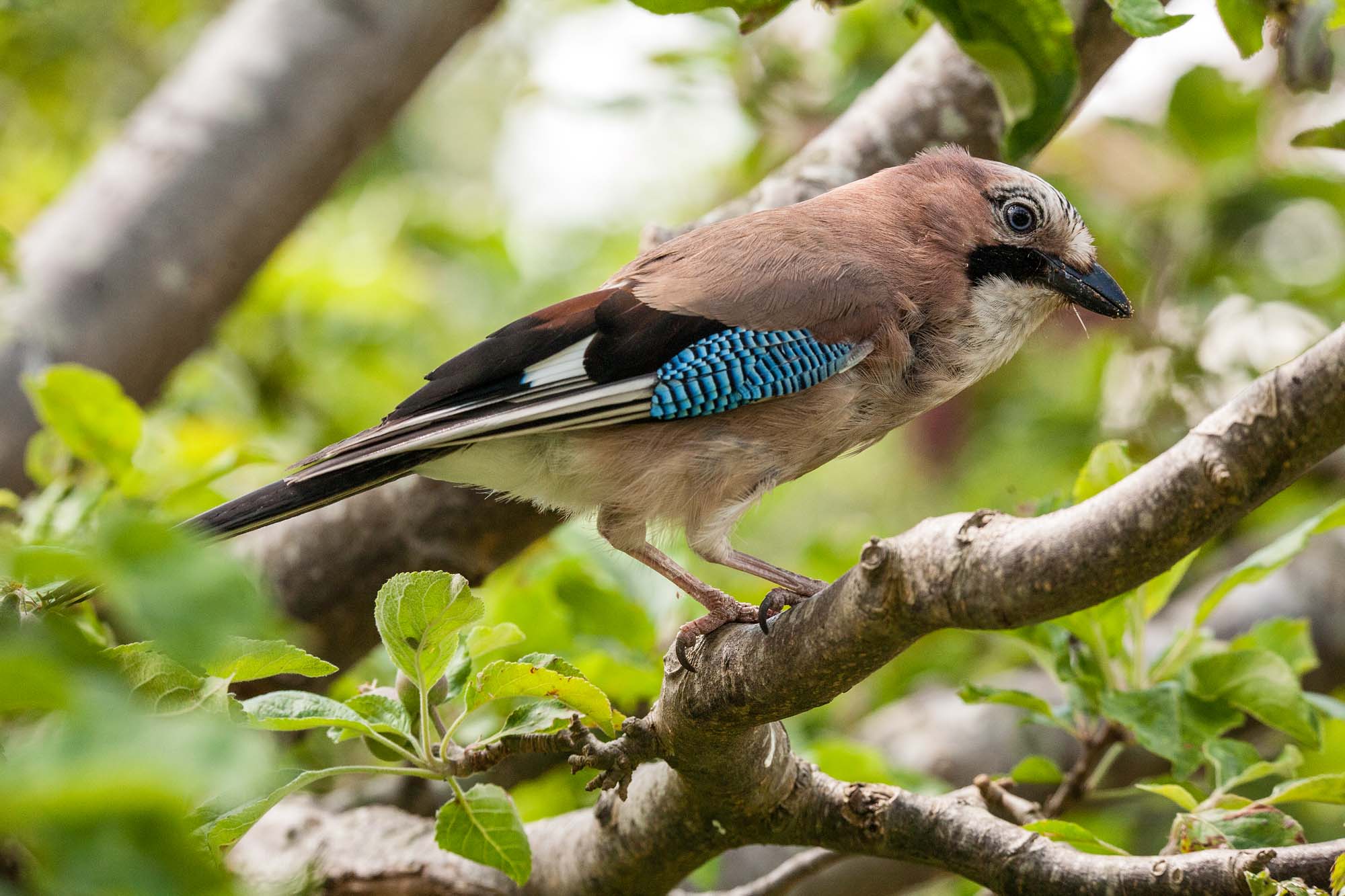 This is a short film I made in my partner's garden in Bristol during lockdown. Avon Wildlife Trust are using it across their social media to encourage wildlife-friendly gardeners. Watch it here.
First Curlew film released
April 25 2020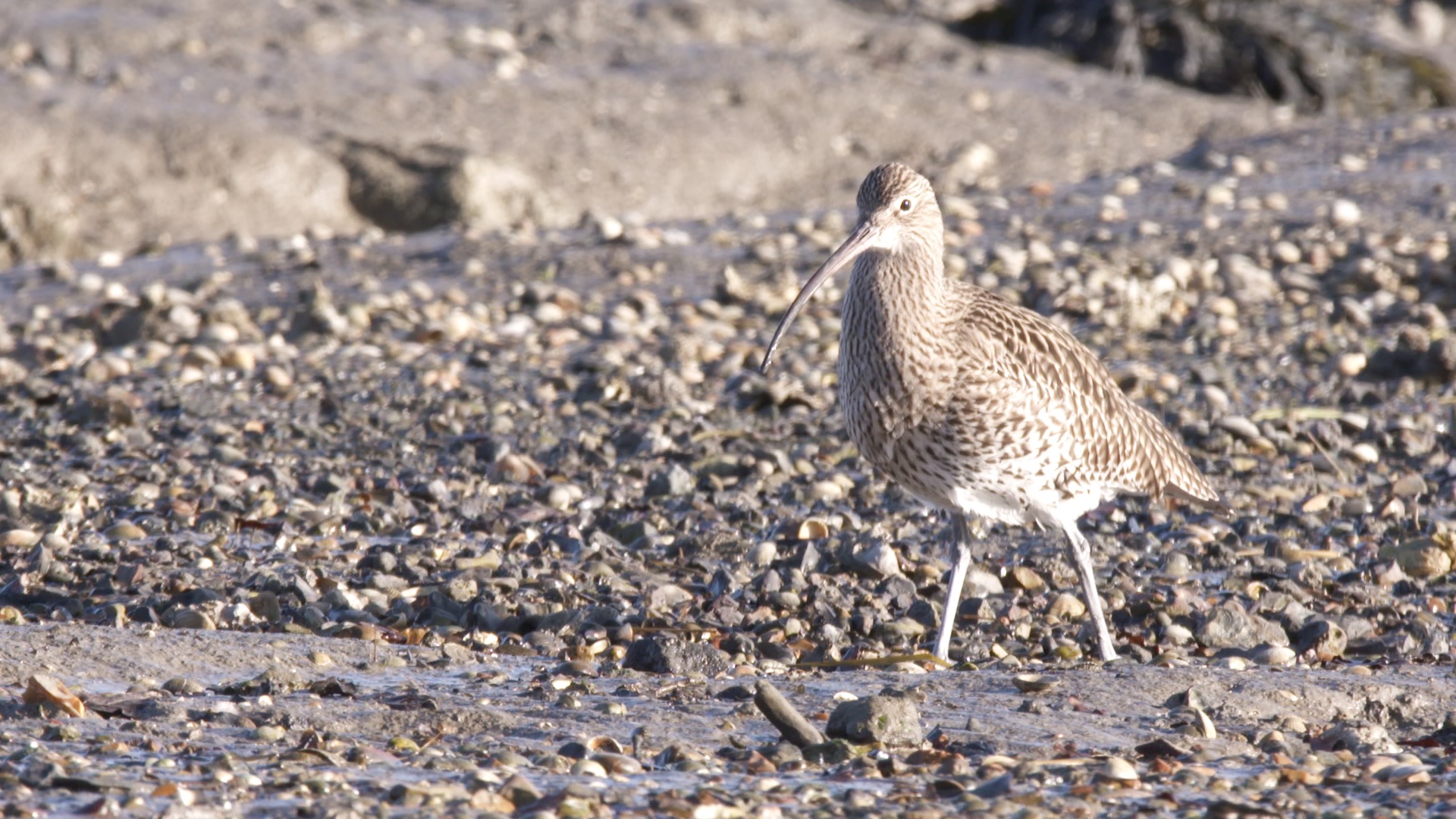 Singer/songwriter David Gray tells the story of our Curlews in winter. Six minutes long ... watch it here.
Filming for Curlews
February 3 2020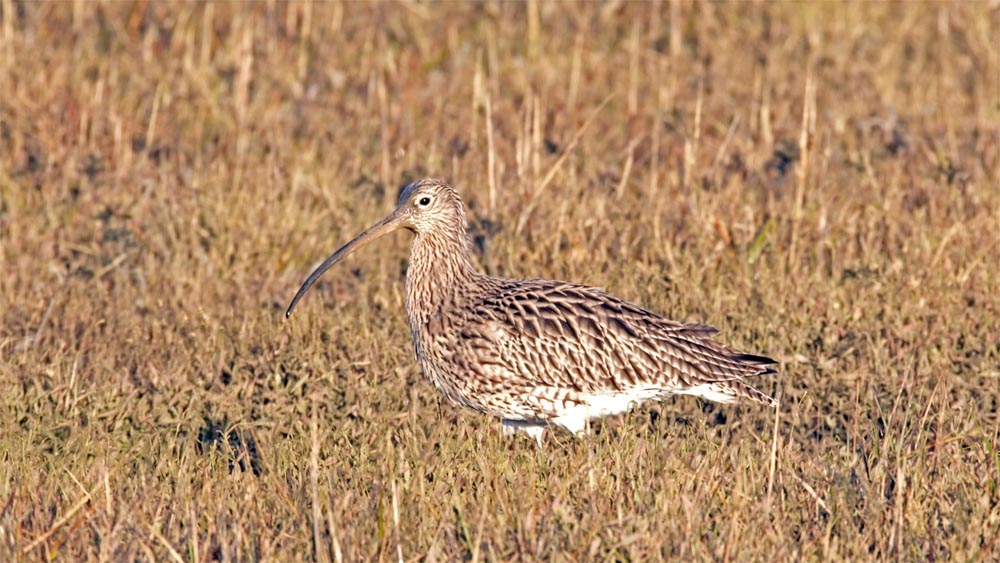 In December I started on a series of short films with Mary Colwell, author of Curlew Moon to highlight their dramatic decline in the UK & Ireland, and the steps being taken to save them. Find out more here.
Gilfach Nature Reserve
May 21 2018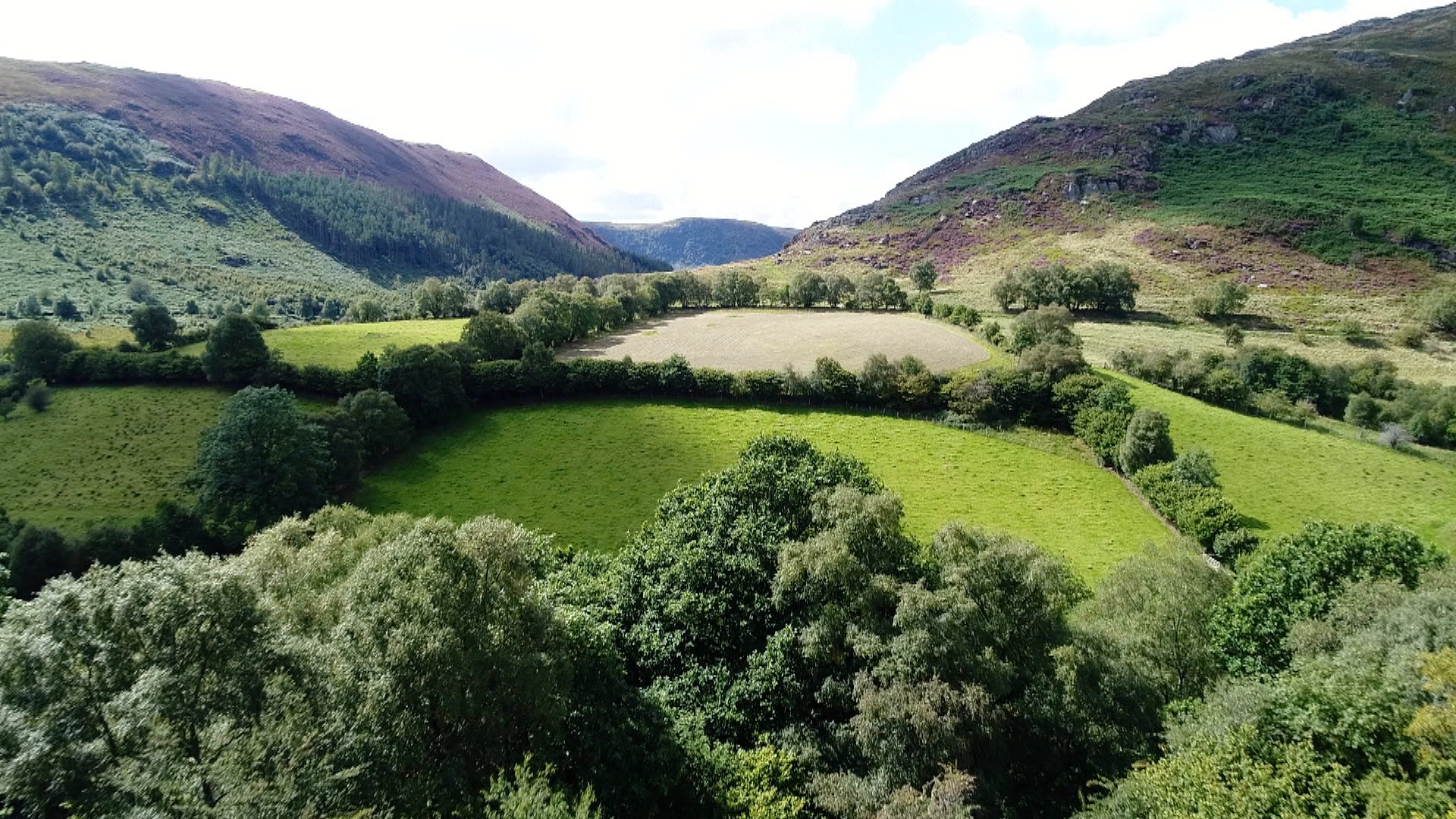 In May a new visitor centre was opened in this gem of a reserve run by Radnorshire Wildlife Trust. This includes the 5 minute film I produced " Making Sense of Gilfach" ... presented by Iolo Williams.
'Wild Britain' series broadcast dates
March 1 2018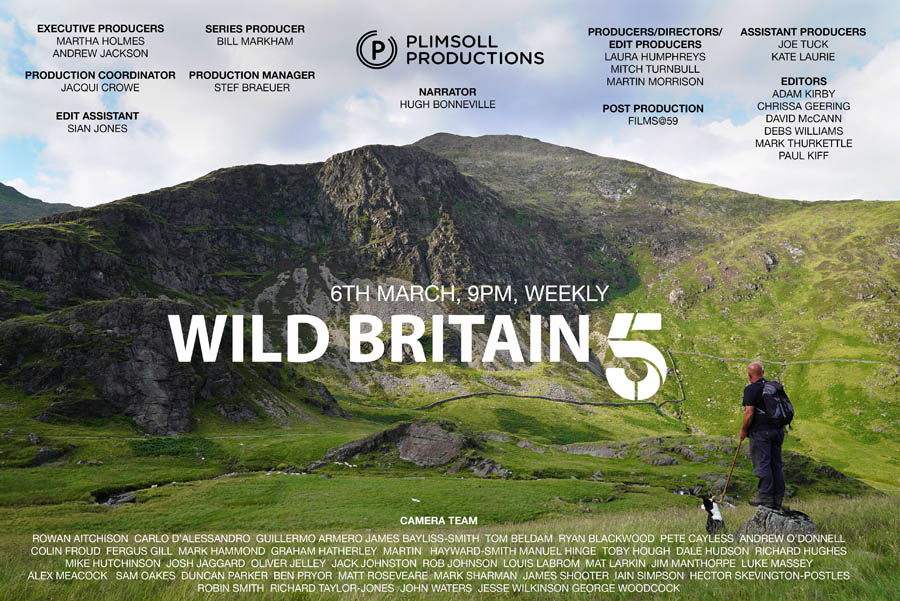 Starting on Tuesday 6th March at 9pm on Channel 5, Wild Britain consists of 8 episodes. My contribution was to episode 6 'Water Worlds' to be shown on 10th April. Produced by Plimsoll Productions for Channel 5.
'Hugh's Wild West' goes out on BBC2
February 14 2018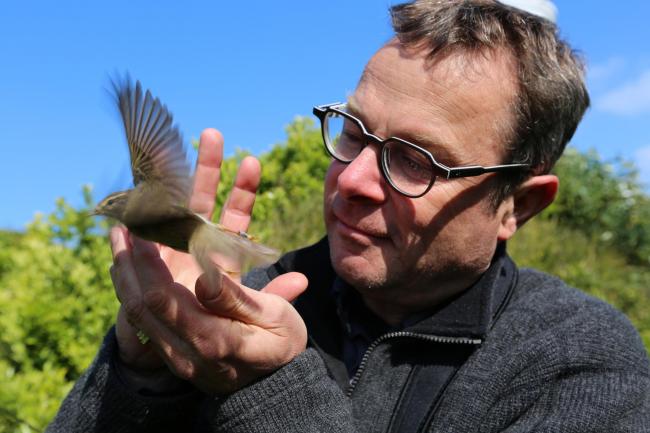 It was fun working on this 12 part series with Hugh Fearnley-Whittingstall who explores the West Country and meets the local heroes who strive to understand and safeguard its wildlife. Produced by Bristol based Keo Films for BBC 2. Photo by Nalini Crack.
Student trip to the Somerset Levels
November 22 2017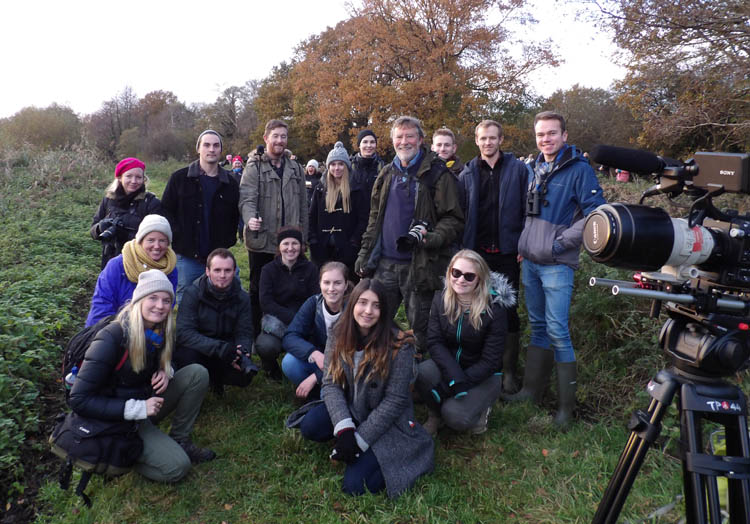 In November I mentored a group of talented students on a 2 day camerawork field trip on the Somerset Levels. A new intake of postgrads doing an MA in Wildlife Film-making at Bristol UWE. Photo by Pete Venn.
'H is for Hawk' broadcast
November 22 2017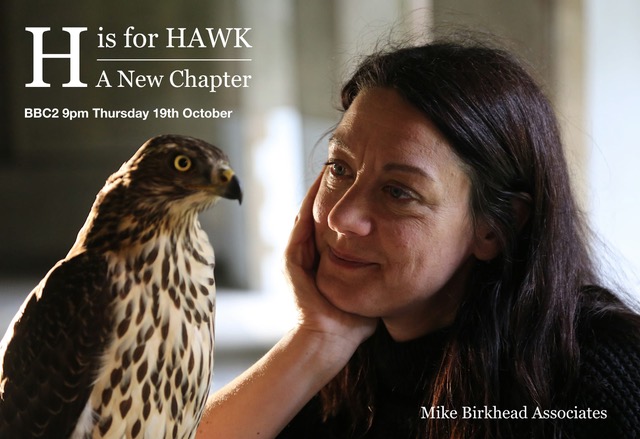 As part of BBC 2's The Natural World "H is for Hawk - a new chapter" was broadcast on 19th October 2017 to widespread critical acclaim. Watch clip here.
Autumnwatch 2017
November 9 2017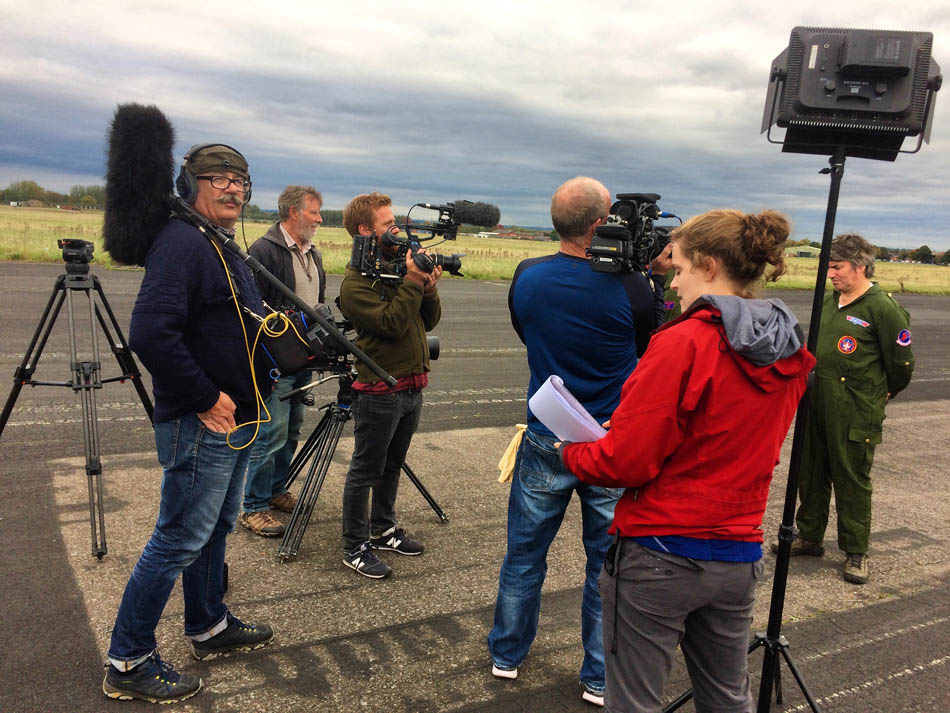 In October at Abingdon airfield with Autumnwatch team to film a piece comparing the flying skills of a swan and a goose. Photo by Rose Buck.
CBBC New Titles
November 9 2017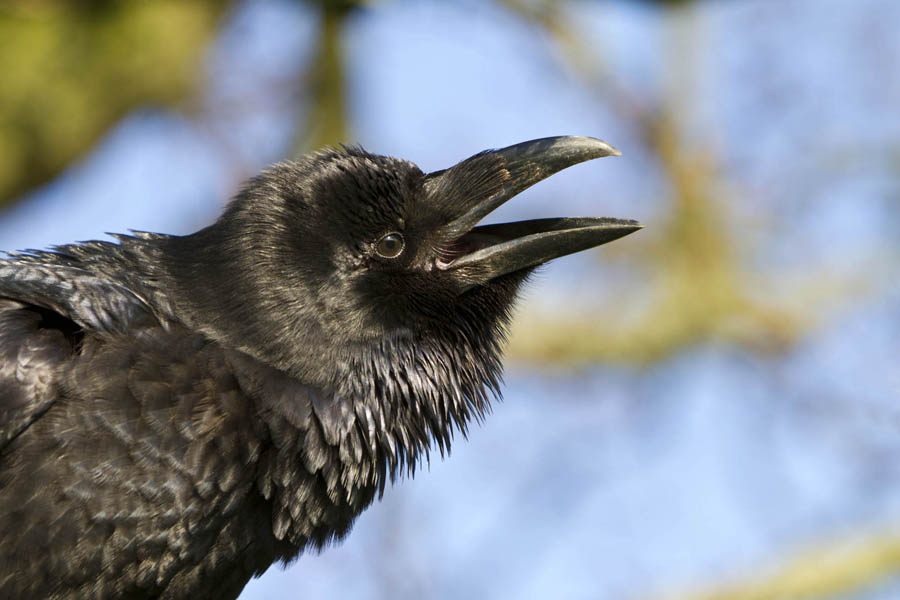 In July I filmed a Raven, called Bran, for a new title sequence for a BBC Scotland show for CBBC series called (appropriately enough) - " Raven"
Gilfach Nature Reserve
June 22 2017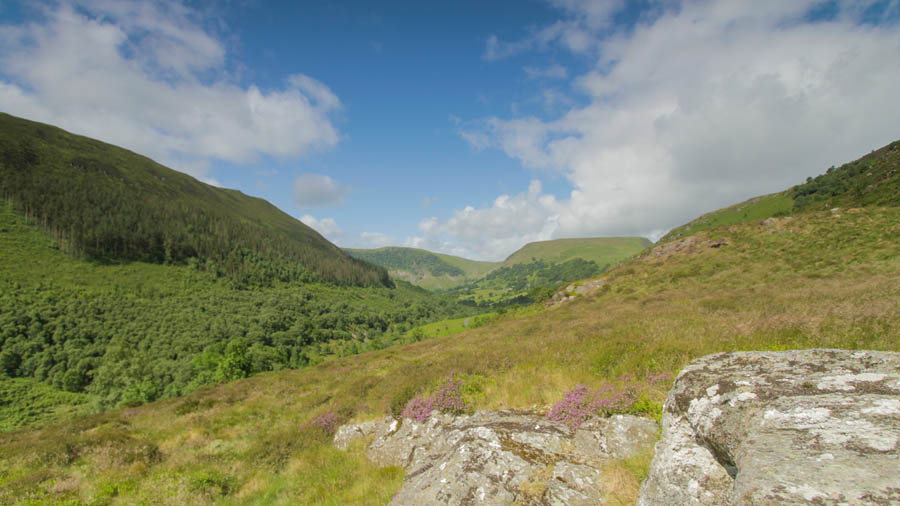 I have been commissioned to film and produce a short film about the beautiful Gilfach Nature Reserve which is located in the heart of Wales. It is run by Radnorshire Wildlife Trust and the film will be for their new visitor centre.
Spring filming in Romania
June 22 2017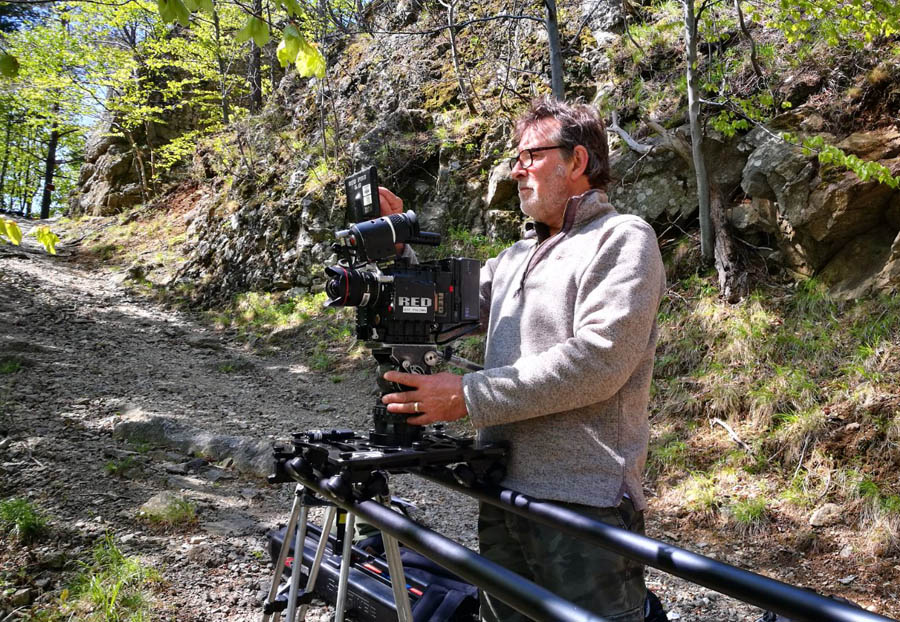 The end of April saw a 3 week trip to a variety of locations in Romania to film spring sequences - a continuation of the documentary feature on the country produced by Off The Fence productions.
Remote Locations First Aid training
April 2 2017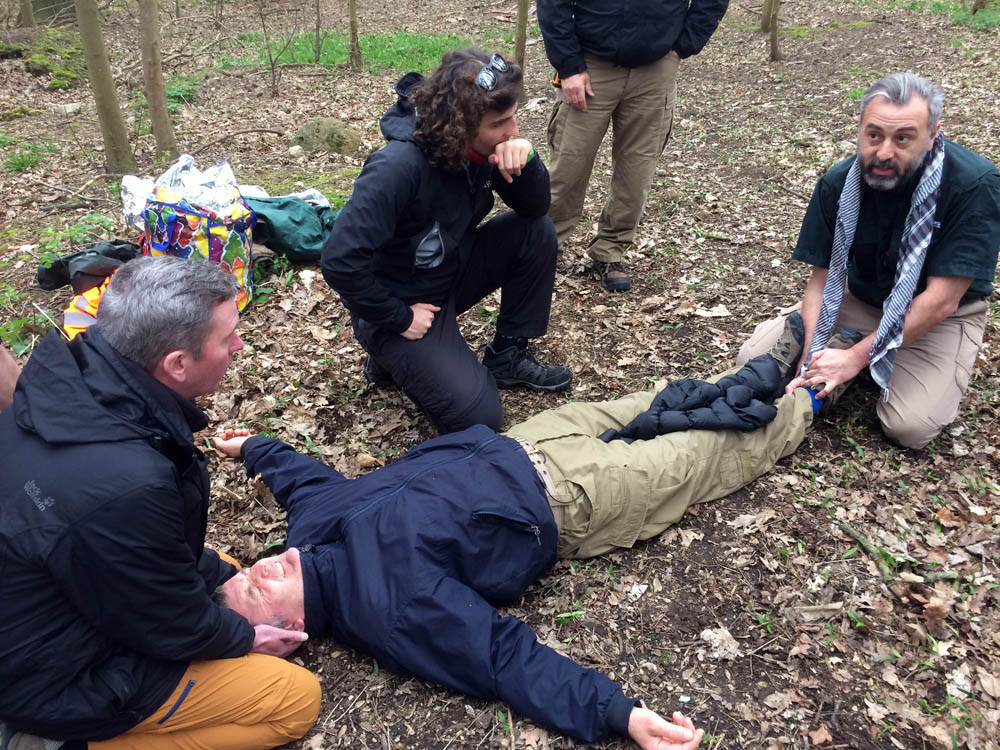 At the end of March I did a 3 day course at Easthampstead Park, Berkshire to train in emergency first aid when medical help is at least 6 hours away. A brilliant confidence-building course run by a great team from Lazarus Training .
Filming Vikings in Scotland
April 2 2017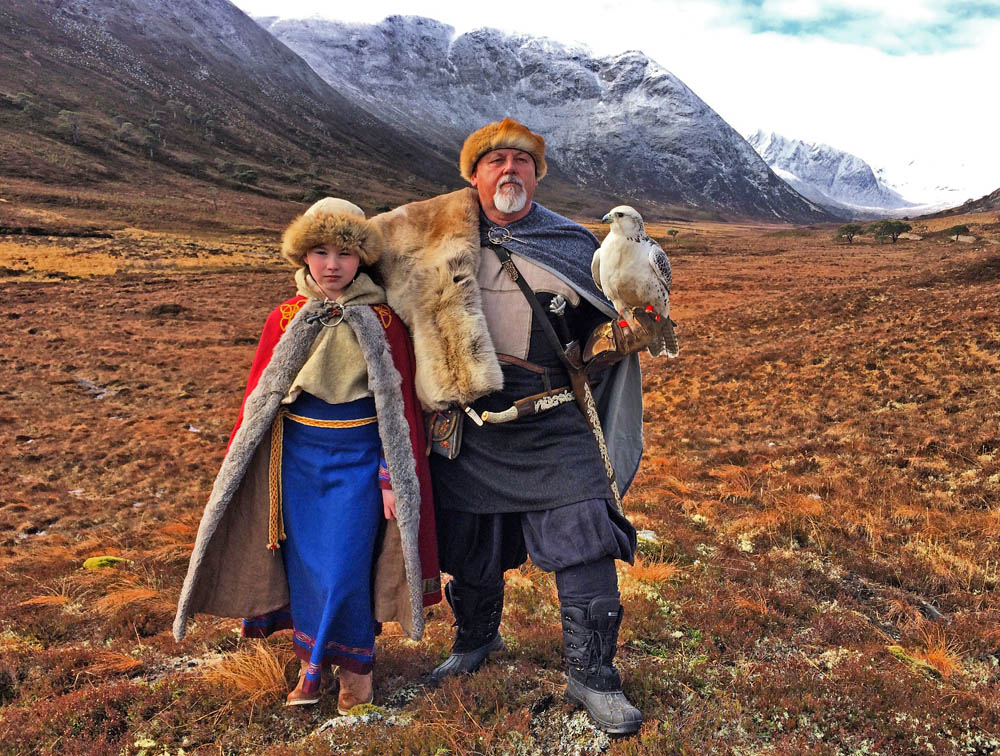 The end of March saw a trip to a remote Scottish glen for a project produced by Maramedia exploring the intimate relationship Vikings had with Nature.
Field trip to the Somerset Levels
April 2 2017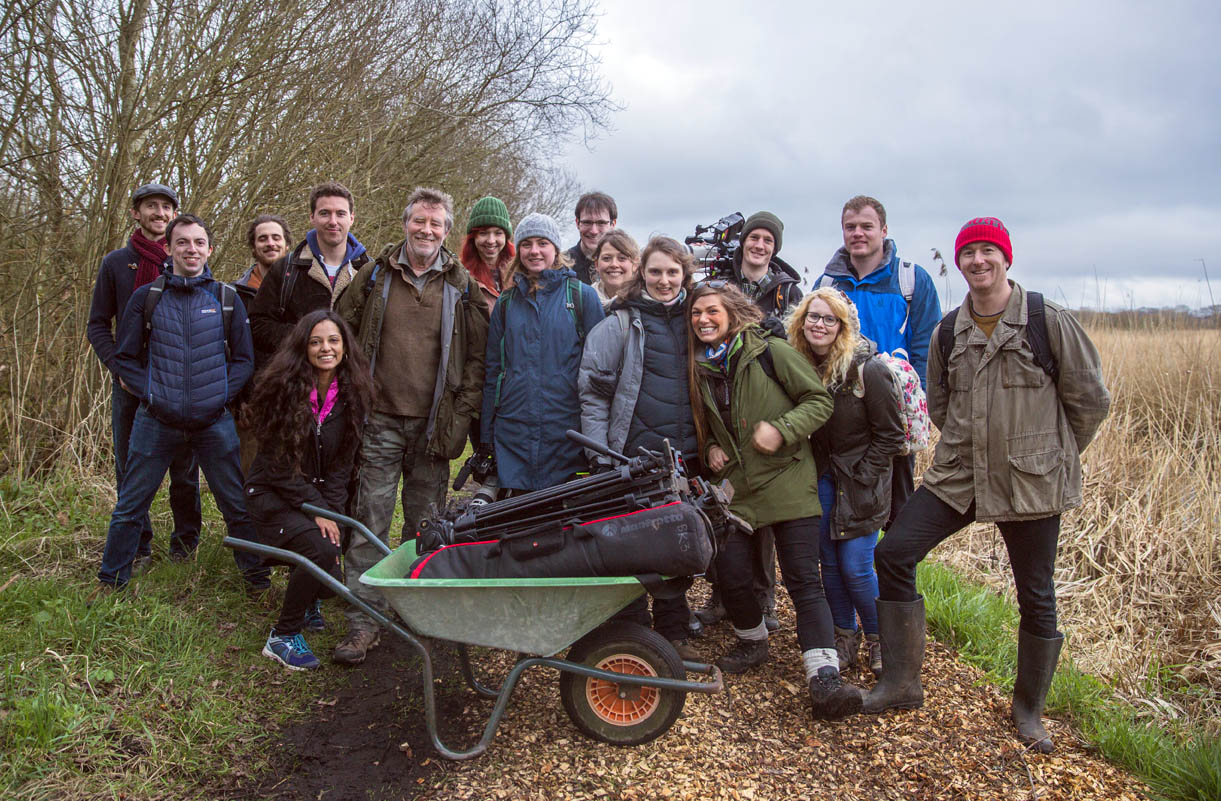 In March I led an enthusiastic and very talented group of students on a field trip to the Somerset Levels. They were postgrads doing an MA in Wildlife Film-making at Bristol UWE.
Brown Trout spawning in the River Kennet
April 2 2017
In February I managed (at last!) to film Brown Trout spawning for a piece about a chalkstream awakening as Spring approaches. For BBC's Springwatch 2017. You can watch it here.
Winter helicopter aerials in Romania
February 17 2017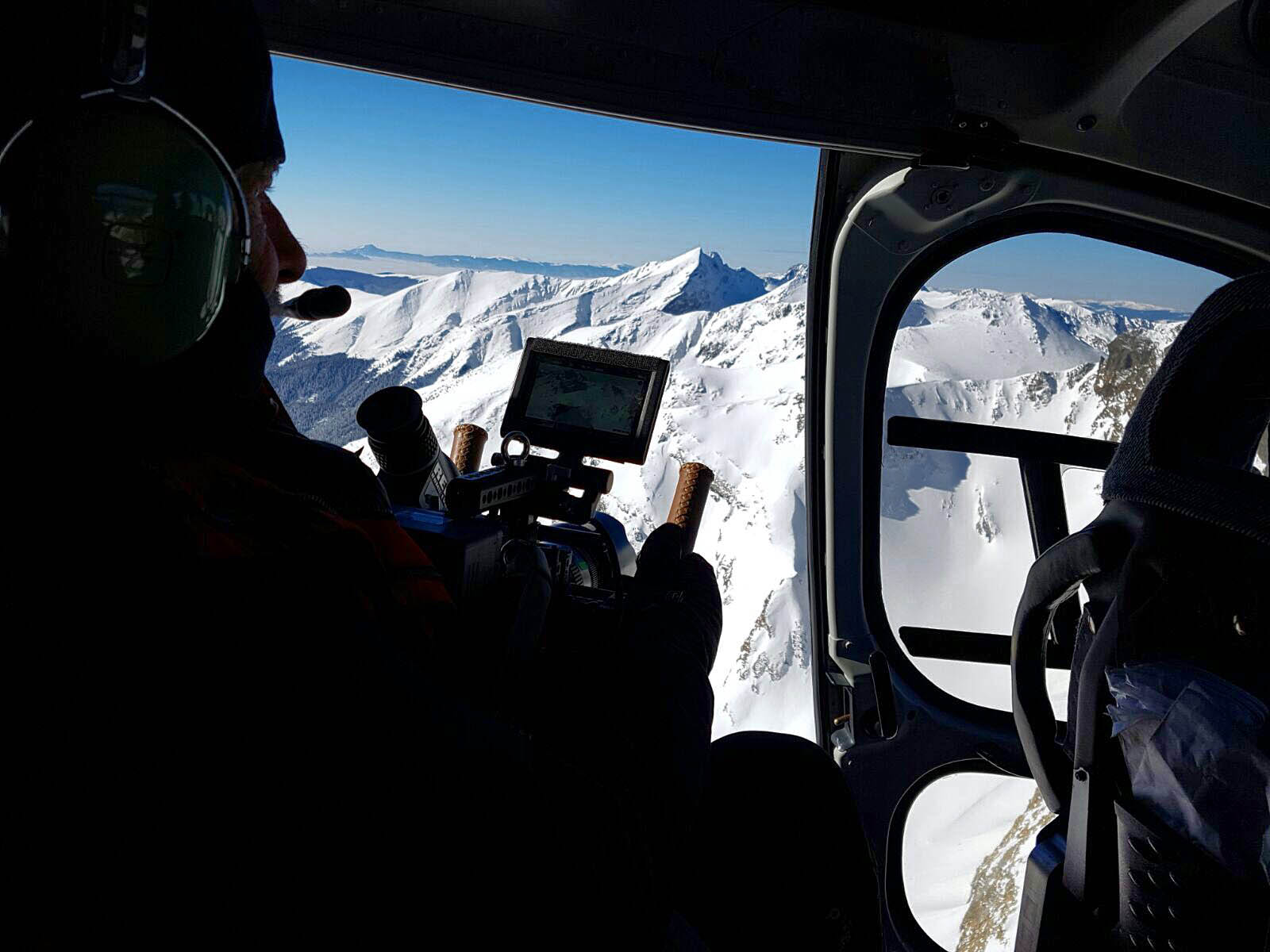 Mid-February and a short shoot to take advantage of a recent dump of snow to film winter in the Carpathian Mountains. Photo by Tom Barton Humphries.
Winter filming in Romania
February 17 2017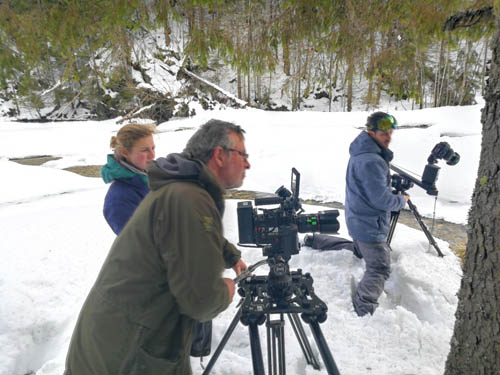 Early February saw a trip to the Fagaras Mountains to film winter sequences. Photo by Mihai Radu.
Somerset 'time passing'
November 22 2016
An exhibition of time-lapse and landscape photography at Bruton Museum , Somerset runs from 2nd December 2016 until 28th January 2017.
Filming begins on Romania project
November 22 2016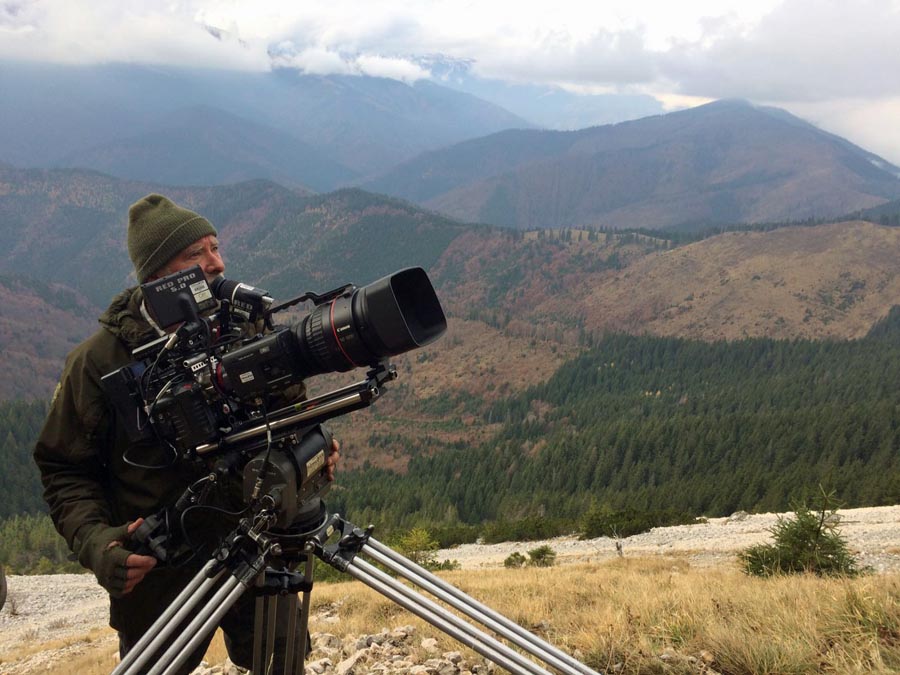 November saw the first shoot of a feature length documentary about Romania produced by Off The Fence Productions in Bristol. We were based in the Carpathian Mountains to film brown bears, wild boar and chamois. Photo by Sarah Titcombe.
Filming for 'H is for Hawk'
October 15 2016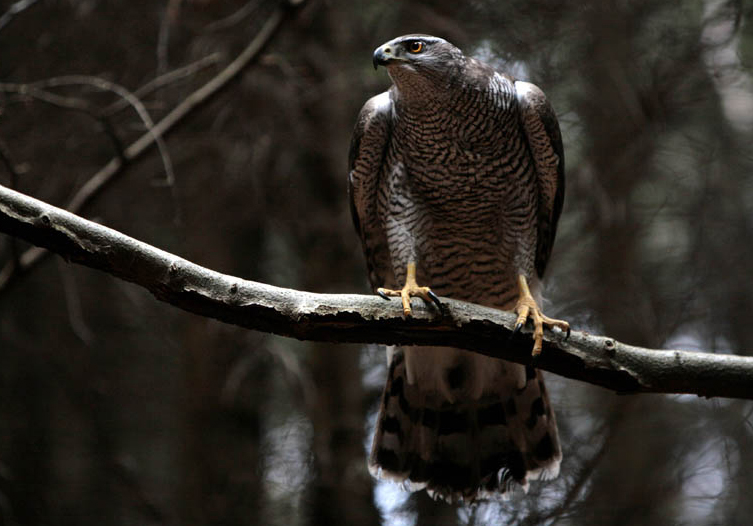 In September I filmed some goshawk sequences for a film based on Helen Macdonald's book "H is for Hawk" produced by Mike Birkhead Associates for BBC 2's 'The Natural World' series.
Wild Atlantic coast of Donegal
September 6 2016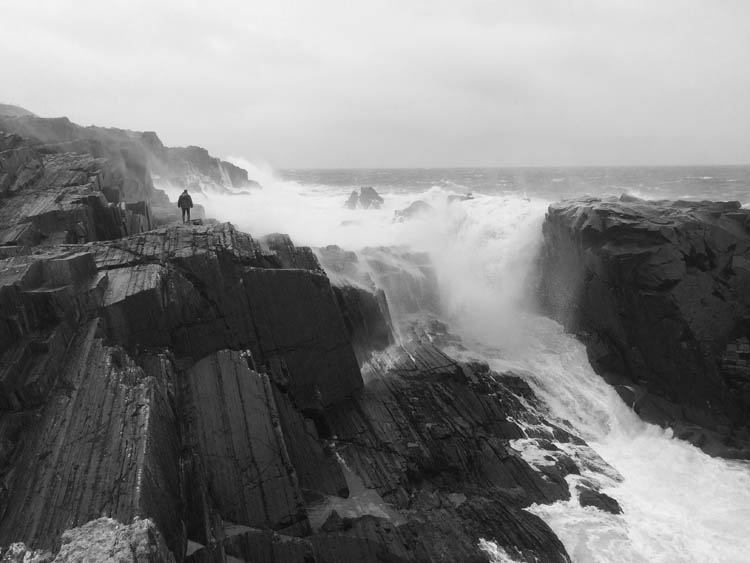 In August I stayed with friends for a magical week on the coast of Donegal - at its most spectacular with storm powered waves pounding the craggy coast. I then cycled the 164 miles across northern Ireland to Belfast. It took three days and rained most of the way but more than made up for by the wonderful countryside and warm welcome of the people along the way.
New section added to shop
September 6 2016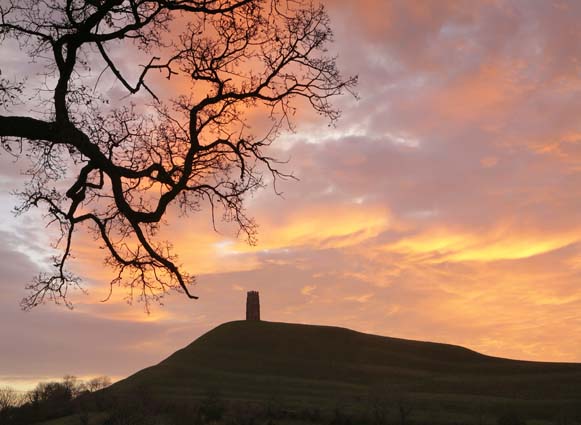 I have added a new page to the Shop ... Standard Small Prints - which are sold mounted and will drop into a standard 12 inch by 10 inch frame.
Slow motion Robins
August 26 2016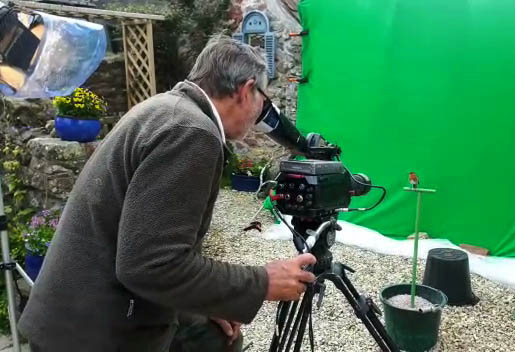 In June I had an opportunity too good to miss. Professional bird trainer - Lloyd Buck - had tamed a pair of Robins in his garden that were busy feeding a nearby nest of chicks. Tempted by mealworms the birds could be persuaded to fly, land and take-off on cue while I filmed with a Phantom Flex to produce stunning slow motion footage. The Robin was filmed against green screen for commercial and promo projects and is available from Birds in Slow Motion .
Springwatch 2016
August 26 2016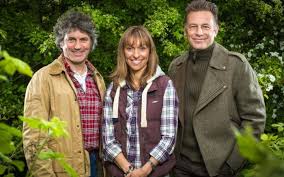 For this series I worked on a four part 'Heron Diary' based at a heron nesting colony overlooking the Somerset Levels. I also filmed a piece about the spawning of Sea Lampreys. And a 'time trial' between Lloyd Buck's Gyrfalcon (Isla) and Peregrine Falcon (Moses) to see which was faster at catching a lure carried by Martin Hughes-Games while riding his motor bike.
Updated showreel
August 20 2015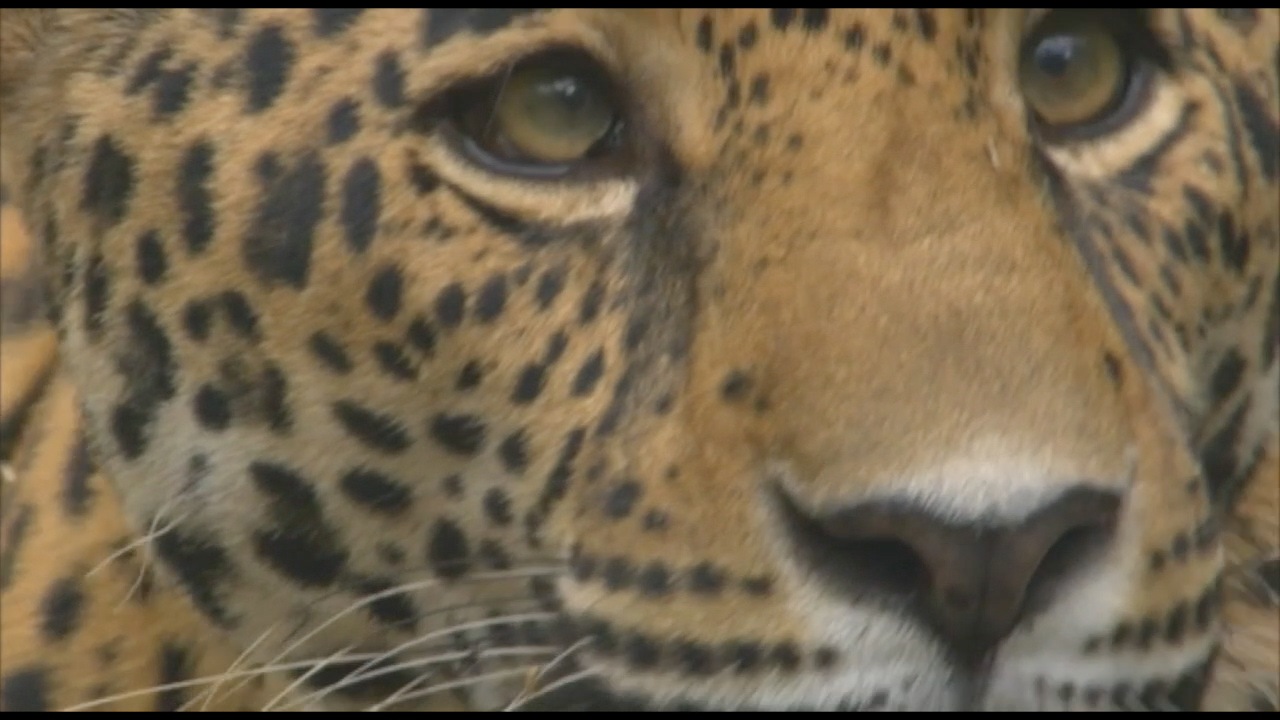 I have updated my showreel to include more shots from over the last couple of years. You can watch it here .
Filming in Romania
June 18 2015
In May 2015 I went to the Danube Delta in Romania to film a section for a series on Europe's 'Wildest Places'. Produced by Off The Fence for National Geographic.
Springwatch 2015
April 23 2015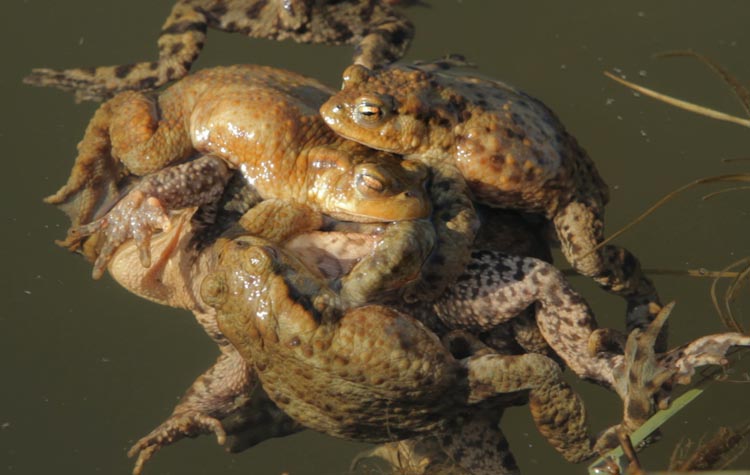 In April I filmed a mass spawning of toads on the Mendips at the site of an old lead-mining works. Broadcast BBC 2 June 4th 8.00pm. Watch it here .
Filming in Svalbard
April 15 2015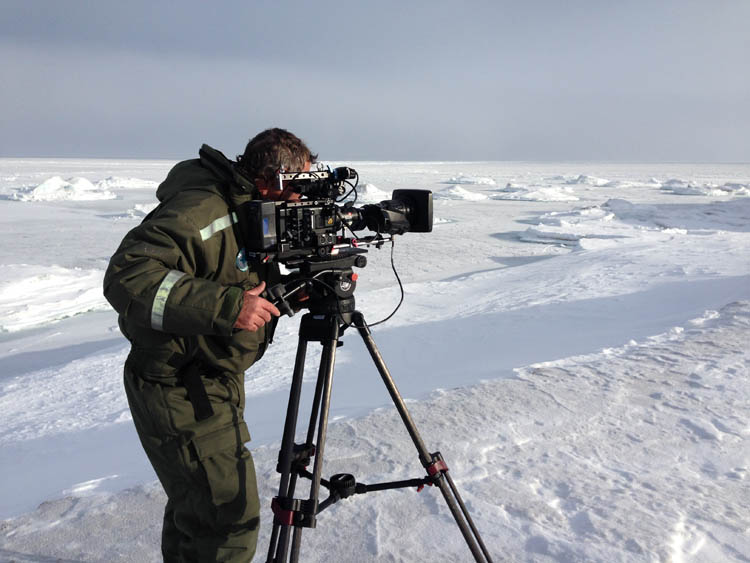 At the end of March I went to Svalbard to film an Arctic segment for a series on Europe's wildest places. Produced by Off the Fence Productions in Bristol for National Geographic. Photo by Dan Celius.
BBC Natural World ... TX date brought forward
February 27 2015
The 'Owls' programme that I worked on last year is to be screened on Tuesday 3rd March. "Super-Powered Owls" is to be shown at 8pm on BBC 2.
Winterwatch 2015
January 6 2015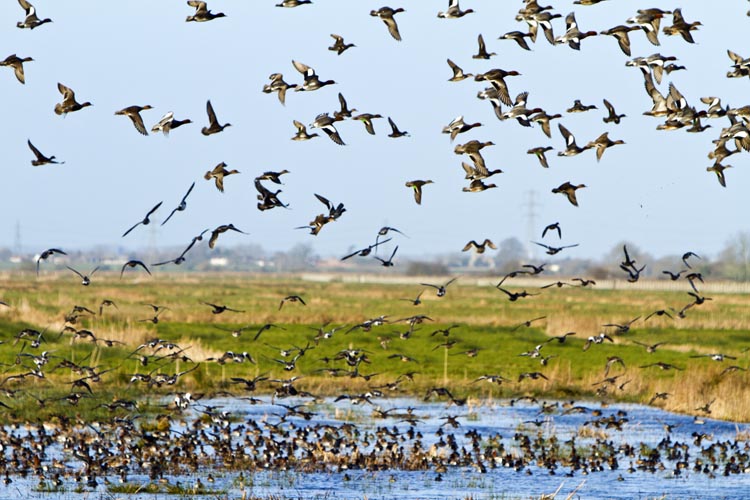 In December I filmed a piece for BBC's Winterwatch ... a personal portrait of winter on the Somerset Levels. It was broadcast on Jan 19th - on the opening programme of the series. Watch it here
Exhibition of landscapes
November 18 2014
The A2 Gallery in Wells will be featuring an exhibition of my landscape photographs from November 2014.
"A River in Ireland" wins Wildscreen
November 18 2014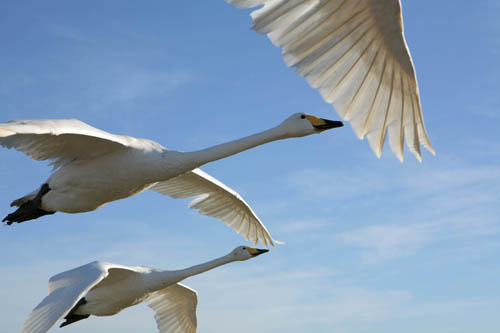 Congratulations to Crossing The Line Films for this beautiful, laid-back exploration of the River Shannon. It won not only the Golden Panda for Best Film but also awards for Best Cinematography and Best Script. Glad to have been involved in filming the whooper swans.
Filming in Finland
August 13 2014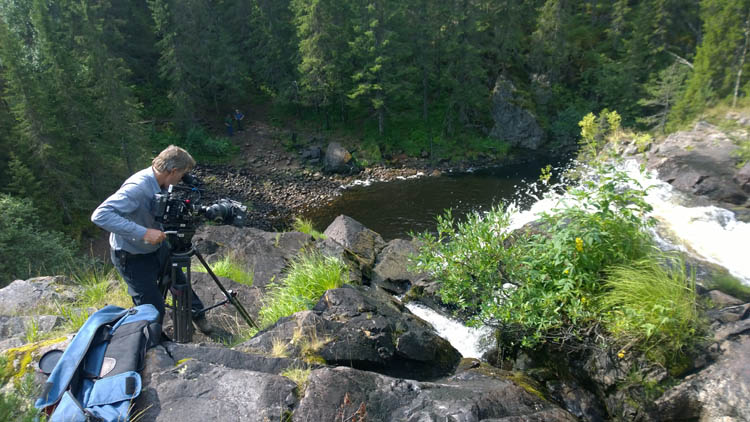 July also saw a trip to Finland to film bears and wolves for a programme on European forests - part of a series on Europe's wildest places produced by Off The Fence Productions in Bristol for National Geographic. Photo by Teemu Karvonen.
New Nature series for ITV
August 13 2014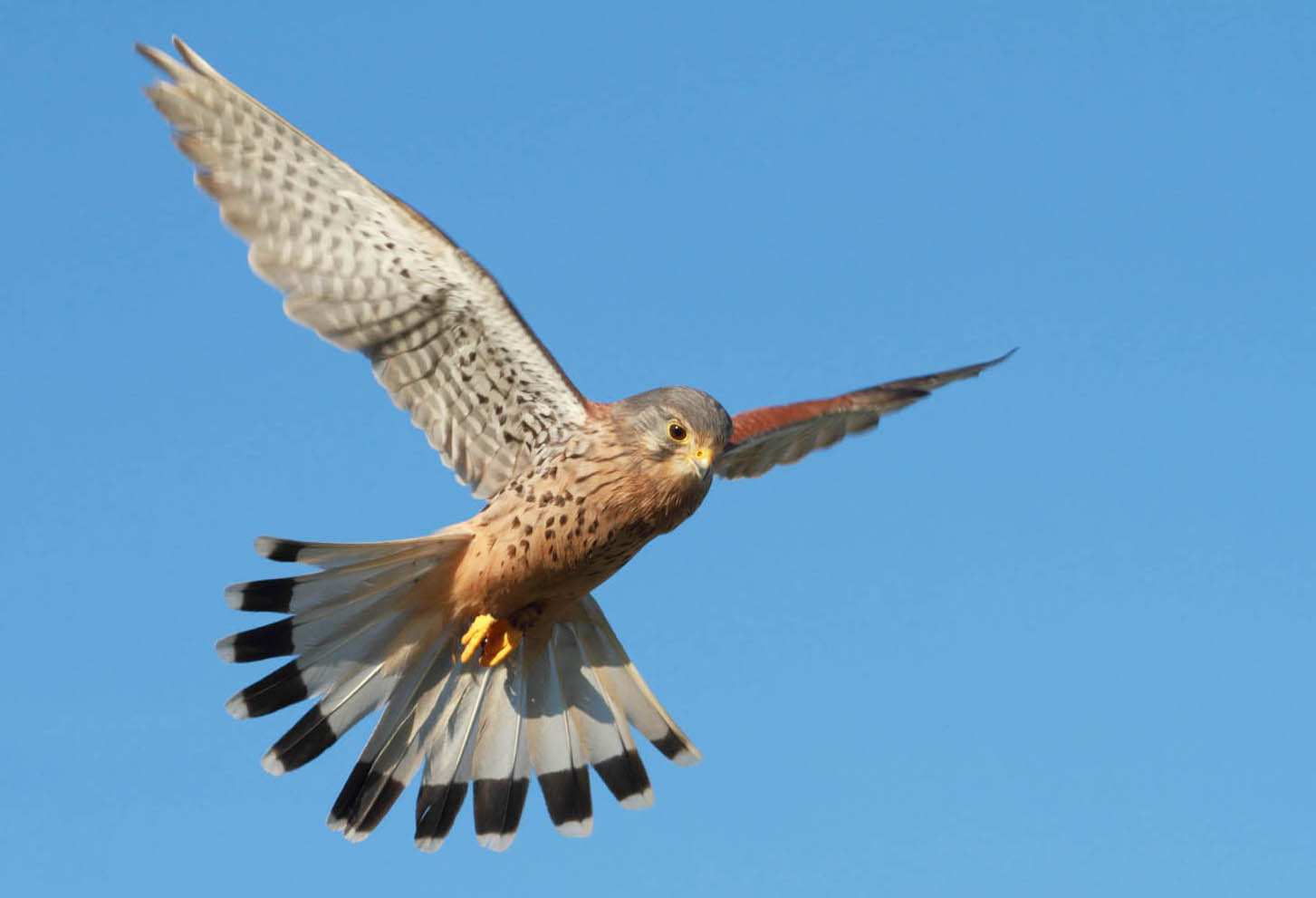 June, July and September saw shoots for a new ITV series produced by Oxford Scientific Films. Locations in Essex,Yorkshire and Scotland. I got to use a Phantom Miro high-speed camera for he first time - filming at 1500 frames per second which slows down action by a factor of 60. UPDATE: "Nature Nuts with Julian Clary" goes out on ITV at 7pm. Ep. 1 Sunday 2nd Aug. Ep. 2 Sunday 9th Aug. Ep. 3 Sunday 16th Aug.
BBC 'The Natural World'
August 13 2014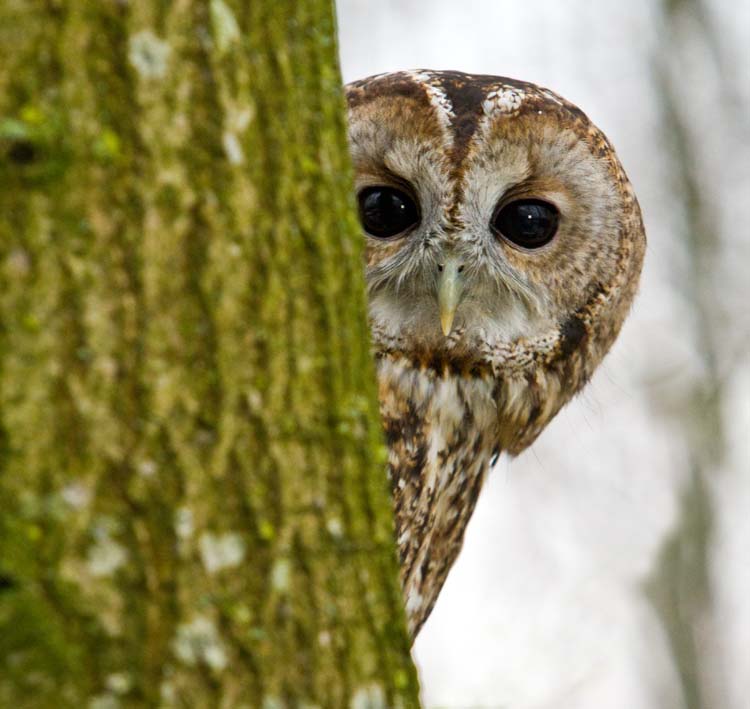 In May I filmed for a forthcoming Natural World about Owls. Including hatching of barn owl chicks at the Hawk Conservancy near Andover.
Avon Wildlife Trust
July 16 2014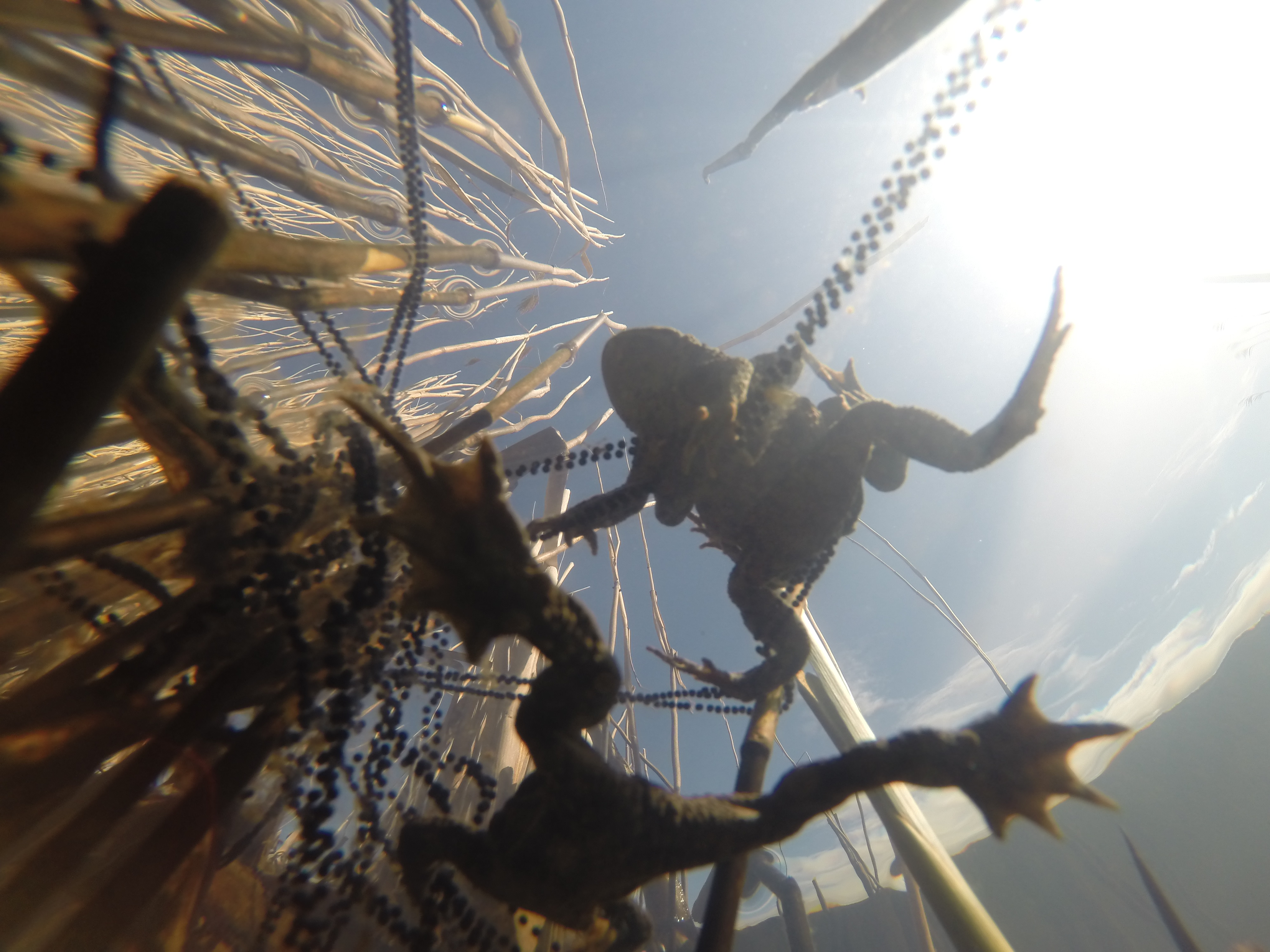 In spare time I've been filming for Avon Wildlife Trust to promote the work they do and the reserves they look after.
'Conquest of the Skies'
July 16 2014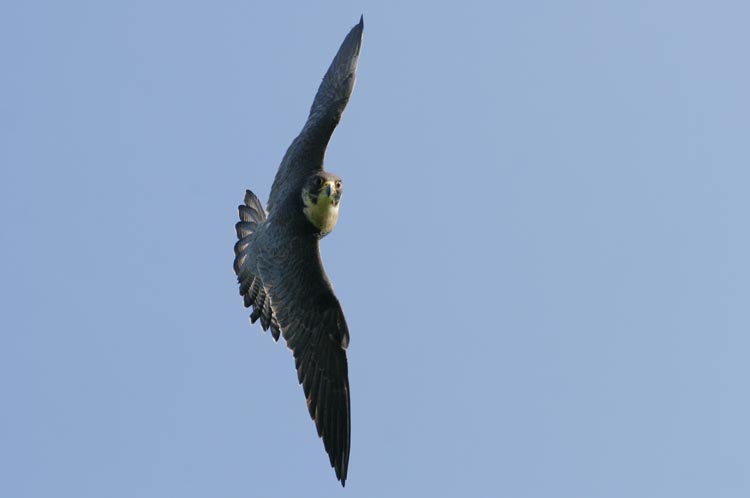 I have been filming for David Attenborough's next 3D special about the evolution of flight by Atlantic Productions for Sky TV. Using Red Epic and Canon prime lenses. More details coming soon ...
'Wild Mexico': finished
July 16 2014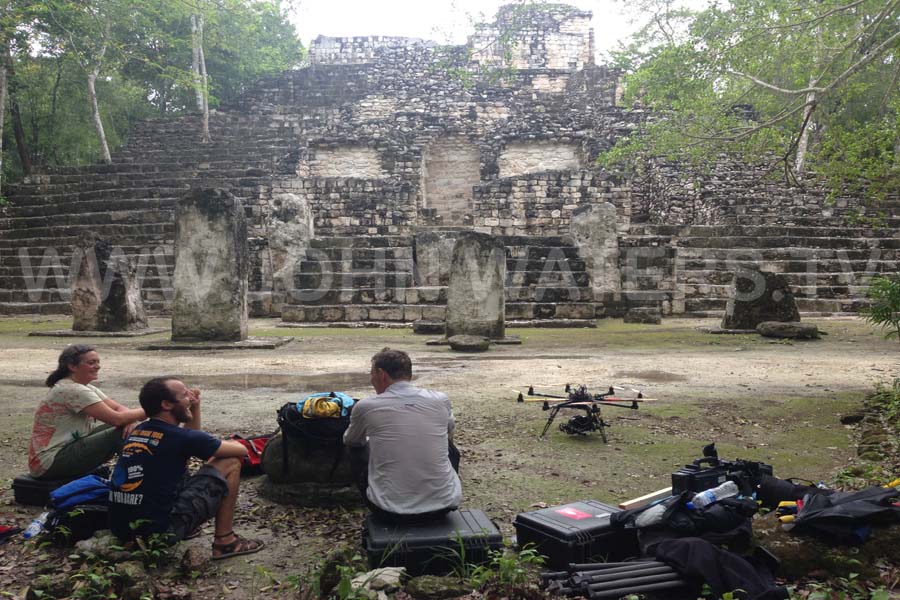 Delivered to Animal Planet in November 2013. Clips available to view on Video Gallery
"The Great British Year" starting on BBC1
September 23 2013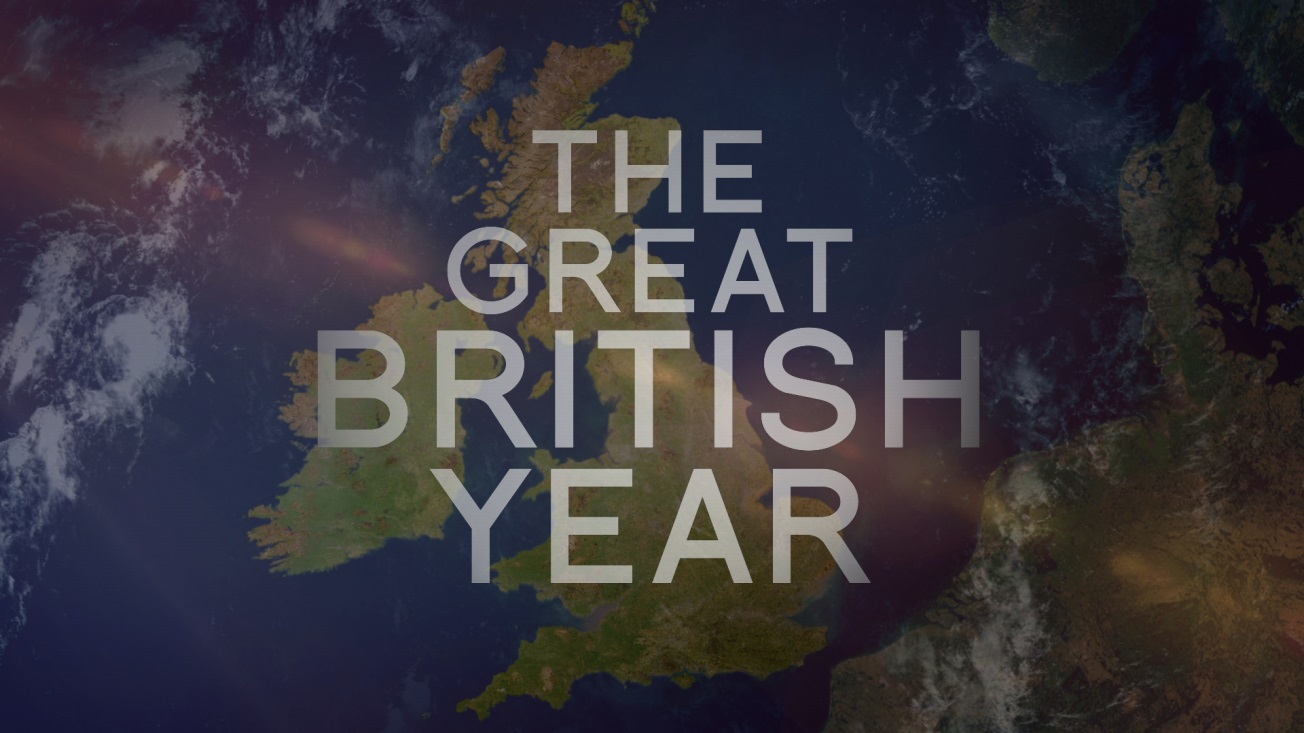 The Great British Year (working title "Seasons") which I worked on last year will start transmission with 'Winter' on Wednesday 2nd October on BBC1. 'Spring' 9pm 9th Oct, 'Summer' 9pm 16th Oct, 'Autumn' 9pm 23rd Oct.
Filming Gannets in Ireland
September 6 2013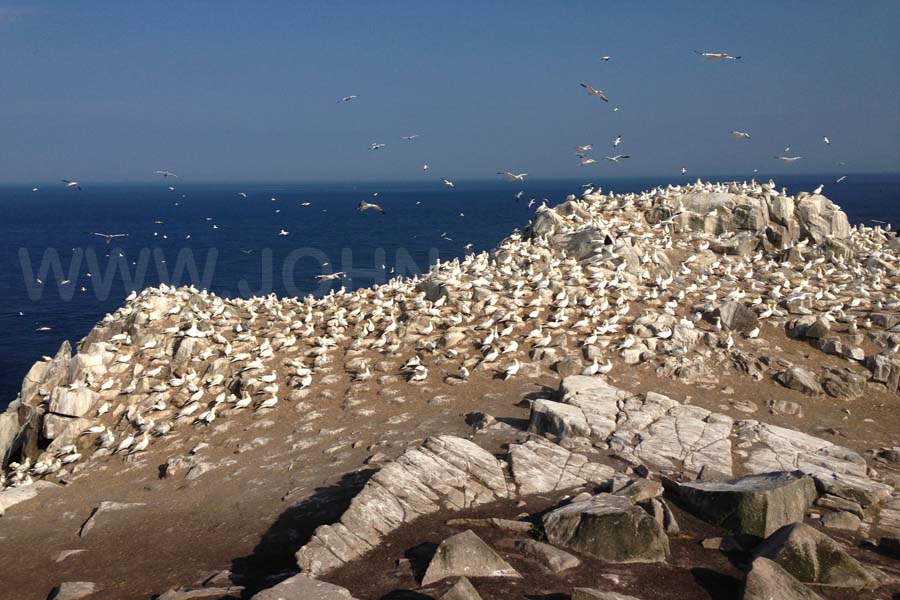 In July I camped for a week on Greater Saltee island off Wexford which is home to thousands of breeding gannets. My collaborator was Christian Staunton and we were fantastically lucky with the weather. The brief was to get extreme slow motion shots of the gannets using a Phantom high speed camera. This is part of a forthcoming special on Ireland by Wicklow-based Crossing The Line Films.
Exhibition of Landscapes at Muchelney Pottery
July 2 2013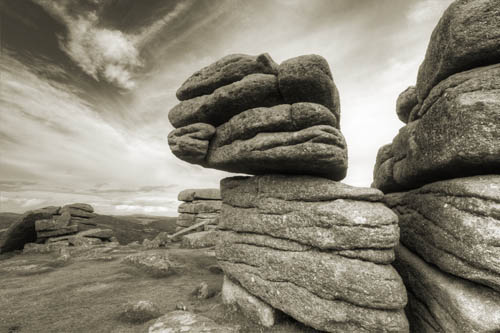 A selection of my recent landscape photographs are on view at the Muchelney Pottery House Artists Exhibition from June 22nd to September 3rd 2013.
Filming underway for Unnatural Selection
July 1 2013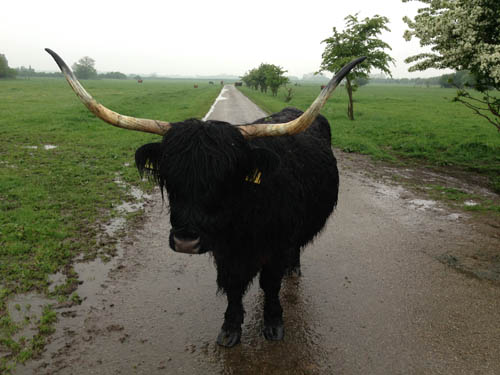 In May and June 2013 I travelled to Holland and the USA for filming on a science documentary looking at man's effect on evolution. HD Camera. Skyvision for Terra Mater. Delivered December 2013.
Filming underway for Wild Mexico
May 18 2013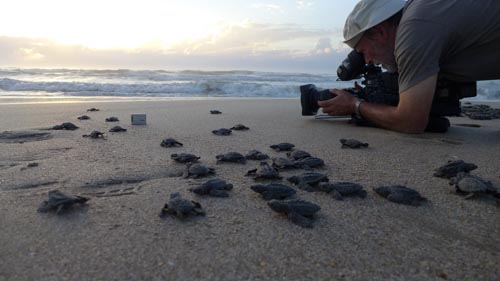 In May 2013 I started another filming trip for "Wild Mexico" - an exploration of the wildlife hotspots of Mexico. Produced by Skyvision for Animal Planet. In production.
"The Burrowers"
April 12 2013
In April 2013 I did some filming for a series looking at the secret lives underground of some of our best known wild animals. Dragonfly Films for BBC 1.
Cycling from south coast to north coast of Spain
March 26 2013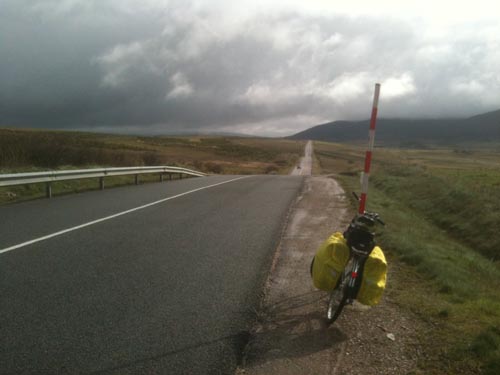 In March 2013 I did a 17 day solo cycle trip from San Lucar de Barrameda (on the coast near Jerez) covering 1050 kms to Santander on the north coast … then a ferry home. Great scenery and people the whole way.
Wildscreen Jury at work
November 14 2012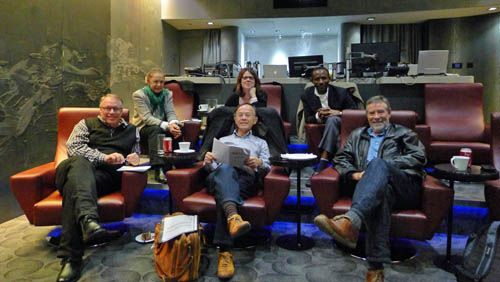 I was honored to be asked to Chair the jury for the Wildscreen 2012 Film Festival and I spent from 9-15th October enjoying the company of five esteemed colleagues. Clockwise from me, they are Masuru Ikeo (Executive Producer, NHK, Japan), Steve Jones (Film Producer, USA), Annette Scheurich (CEO, Marco Polo Film, Germany), Perrine Poubeau (Commissioning Editor, France TV) and Tommy Garnett (Director of Programmes, Environmental Foundation for Africa). The Festival itself ran from 15-19th October and was a great success.
"Wild Side of Cats" completes filming
June 15 2012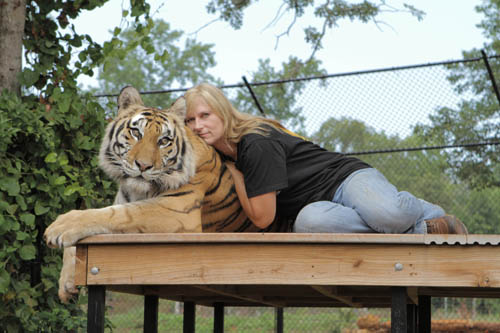 June 2012 saw a trip to the USA to film in Denver, San Francisco, Palm Springs & Texas to finish up a project about domestic cats … have we domesticated them or they us? Skyvision for National Geographic.
Filming begins for Swamplands USA
May 2 2012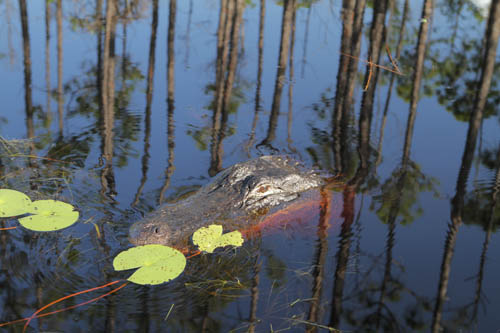 In May 2012 I started filming on two films about American swamps … the Okefenokee in Georgia, and the Atchafalaya in Louisiana. Produced by Skyvision for National Geographic and Animal Planet. Delivery June 2013. Watch clips on Video Gallery
"Seasons" for the BBC
April 2 2012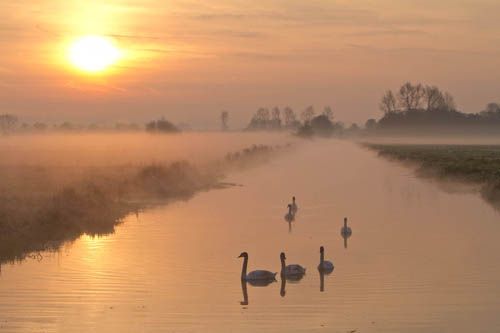 In March 2012 I started work on the four part series "Seasons" for BBC 1 which includes a lot of time lapse.
Filming desert reptiles
March 7 2012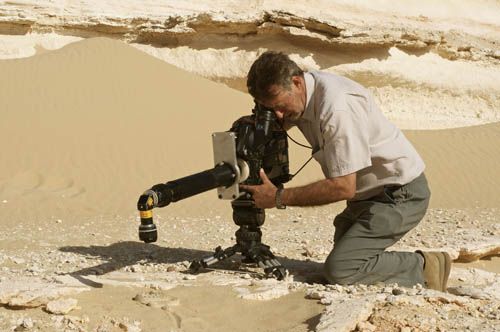 February 2012 was spent in Qatar filming reptiles, plant stories, insects and time lapses in the desert for Rockwallaby Productions. Photo by Morne TerBlanche